Exhibit 99.1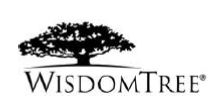 WisdomTree Announces Second Quarter 2022 Results - Diluted Earnings Per Share of $0.05 ($0.07, as adjusted)
New York, NY – (GlobeNewswire) – July 29, 2022 – WisdomTree Investments, Inc. (NASDAQ: WETF) today reported financial results for the second quarter of 2022.
$8.0 million net income ($11.3(1) million net income, as adjusted), see "Non-GAAP Financial Measurements" for additional information.
$74.3 billion of ending AUM, a decrease of 6.4% arising from market depreciation, partly offset by net inflows.
$3.9 billion of net inflows, primarily driven by inflows into our fixed income products.
0.39% average advisory fee, a decrease of 1 basis point due to AUM mix shift.
$77.3 million of operating revenues, a decrease of 1.4% due to a lower average advisory fee.
79.2% gross margin(1), a 1 point decrease from the previous quarter due to product launches and higher transaction-based fees.
20.5% operating income margin (23.1%(1) as adjusted), a 2.1 point decrease (2.6 point decrease, as adjusted(1)). Our unadjusted operating income margin is impacted by $2.0 million of expenses incurred in responding to an activist campaign. On May 25, 2022, we entered into a cooperation agreement and therefore we do not anticipate incurring any significant activist campaign-related expenses during the remainder of this year.
$0.03 quarterly dividend declared, payable on August 24, 2022 to stockholders of record as of the close of business on August 10, 2022.
Update from Jonathan Steinberg, WisdomTree CEO
"I'm very pleased with WisdomTree's execution of our strategy and our ability to navigate a difficult macro backdrop. We are one of very few asset managers generating strong organic growth, and we expect that momentum will continue as client engagement remains high. Additionally, we remain focused on the diversification, growth and performance of our robust lineup of products, model portfolios and solutions. Our digital assets rollout remains on track, and our responsible DeFi approach to digital assets, our trusted brand and opportunities arising from the "Crypto Winter" has us well-positioned for success in this space. There is a massive runway for sustainable growth ahead of us, and I am confident in WisdomTree's ability to execute moving forward."
Update from Jarrett Lilien, WisdomTree COO and President
"WisdomTree's perpetual focus is on growth — both today's and tomorrow's — team and efficiency. I am proud of our continued innovation and controlling what we can in this challenging market environment. We are generating best-in-class organic growth but more importantly, we have built a franchise poised for sustainable growth going forward. Our ETF business is extremely scalable with robust incremental margins, and we expect our operating leverage will deliver improving margins as the market normalizes and our AUM scales higher. Strong sustainable growth and momentum today and our digital asset initiatives to drive future growth have us both enthusiastic and optimistic about the future."
1